Many 

growth-minded

 small businesses struggle with doing business online. We help you implement strategies that leverage the internet to

increase your bottom line

.
As a small business, have you ever struggled with..

​Not getting enough traffic to your website?
People visiting your website but not becoming sales leads?

Spending a lot on online advertising with little to no results?
A web design or marketing company that doesn't "get it"?

If you said "yes" at least once, we're here to help.

We can do some great things together.

In a nutshell, here's what we do:

Conversion-focused websites built to be fast and mobile device friendly.
Paid traffic strategies designed to generate more leads and/or sales.
Friends don't let friends have rankings on page 2 or below. Let's be friends.

More than maintenance. More than hosting. Complete care for your website.
Meet The MosierData Team

"Teamwork is the ability to work together toward a common vision. The ability to direct individual accomplishments toward organizational objectives. It is the fuel that allows common people to attain uncommon results."
- Andrew Carnegie

Psstt.. Is your face missing from here? We're hiring. Scroll Down To Learn More.
A company is the sum of it's people.
At MosierData, we keep our ship running tight by keeping a talent pool of the most dedicated, qualified people.
One of the things that makes us stand apart as a digital agency is that every single member of our in-house staff hold the following certifications:
Meet Our In-House Staff

(Meaning the rockstars you're likely to find hanging around our office during business hours)
---
Though my chief ambition is to one day control the entire Internet, for the time being I'm just having a good time running our little web development and marketing agency.
Jim is a certified super nerd who ranks coding in old, outdated languages and watching Star Trek reruns just a bit too high on his list of fun things to do.
When not wearing his cape, Jim enjoys Hockey (Tampa Bay Lighning, to be specific), more genres of music than most people realize exist, riding his Harley (he calls it "two wheel therapy") and exploring the world through travel.
---
Certified in all Google Analytics & Adwords Specialties.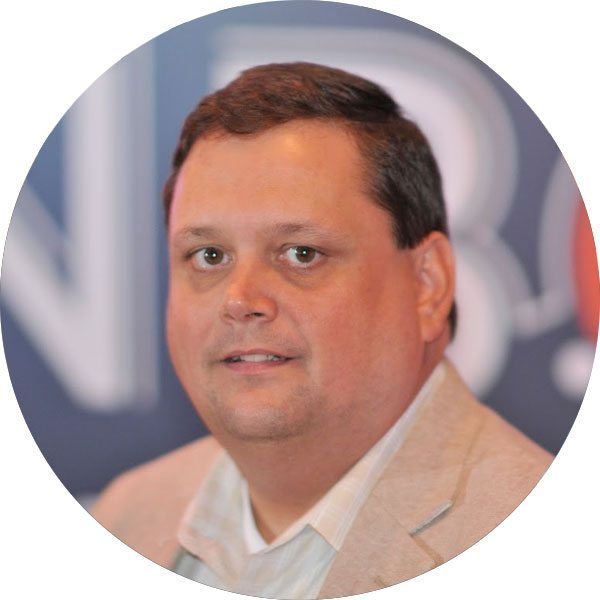 Jim Mosier Company Founder & Chief Digital Strategist

---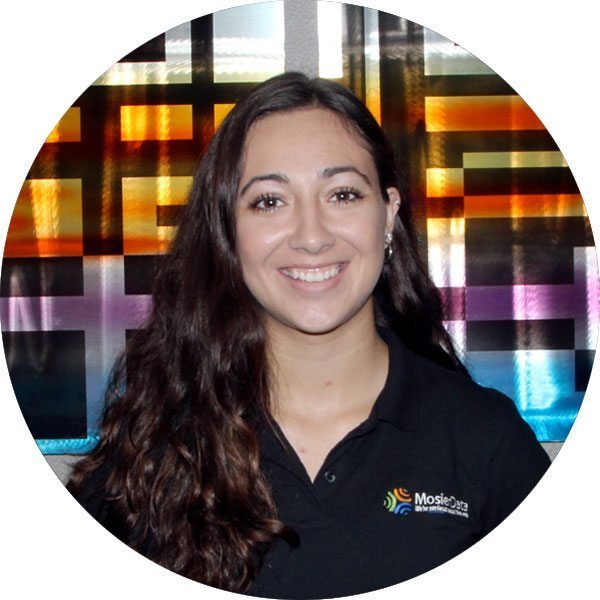 Daryin MacPhail Manager, Digital Production
Do you want to know how we get things done around here? It's because I am fueled by creativity, optimistic ideas and A LOT of coffee.
---
Certified in all Google Analytics & Adwords Specialties.
Daryin plans, coordinates and controls the processes of all things production. In other words, she's the one that Jim counts on to get things done. And that is one thing she does extremely well.
She oversees our team of graphic designers and front-end developers and keeps things moving. She specializes in Graphic Design, Website Management, Inbound Marketing and has great organizational skills.
Outside of work, she has so many interests that we couldn't actually afford to take the time for her to list them all - but include little furry creatures (she is a volunteer at the SPCA) and being a fitness model.
---
Try not. Do—or do not. There is no try.
The word "producer" in his title says it all. Alex is the guy that does a majority of the work designing and building whatever it is that Jim dreams up and Daryin puts on his plate.
Alex is usually found behind the scenes, mainly because we work him like a slave, but also because he prefers to just slip on his headphones and get things done. (Fun fact: He gets just a little too excited when new technologies come out. For real.)
Outside of work Alex loves going to the gym, playing video games, reading comic books and just about anything else that would be classified as "Mega Nerdy"
---
Certified in all Google Analytics & Adwords Specialties.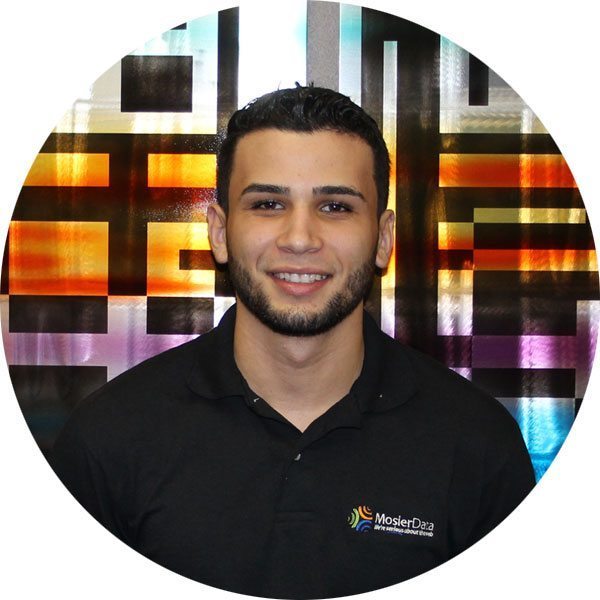 Alex Candelario Digital Producer

Our Remote Staff Rocks, Too..
These folks may not work out of our office, but each one has been hand picked for their ability to deliver awesomeness every single day. Most of them have been with us for years, and we couldn't live without them:

Programmers
Ricardo Vale
Daniel Lu
Sameer Patel
Benjamin Kungo
Front End Coders
Pronoy Paul
Anasis Majumdar
Design Team
Bogdan Enache
Florin Maciuca
MosierData In The Community
Life Is Short. Do Stuff That Matters.
With success comes responsibility.
Since being founded in 2005, MosierData has maintained a reputation for being actively involved with the Lakeland community. Through various civic, business and cultural programs, we have managed to make giving back an integral part of our business model.
​
Here are some of the organizations and causes we have supported in our community directly through volunteer work from members of our dedicated team over the years:
Habitat for Humanity
We use the opportunity to help needy families hands-on as a team building exercise and have a great time doing it!
SPCA Florida
To say we love animals is probably the understatement of this lifetime. Hands on volunteering at its finest.

VISTE
Our team happily donates their time (and use of their vehicles) to deliver essentials to elderly residents in Lakeland.
Toys For Tots
We have been a Toys For Tots dropoff location during the holidays for several years in a row.
Our "Excuse Jar" experiment..

In a perfect world, everything would be perfect. But in the real world, nothing rarely is. We're always trying to improve the way we do things in the office, whether it relates to our internal processes, work we do for clients or just plain ole cleaning up. A few years back, we introduced the "excuse jar." Basically, any time one of us catches another team member of making excuses, the team member being called out must make a donation to the jar. Some months it is more than others, and some months it's not much at all, but at the end of the month, it all goes to charity.
Charities are voted on by the staff, and each month, we select a new one to be a recipient. Here are some past recipients:​
Our Core Values:
G.O. F.O.R.W.A.R.D.
GET SHIT DONE

There is a reason why this item is first. It is our primary goal and sets the tone of everything else we plan to accomplish for you.

OWN OUR WORK

Everything we do for a client is an extension of us. We don't accept mediocrity and neither should our clients.

FIND WAYS TO IMPROVE

This applies not only to what we do, but also how we do it.There is always something more we can do. Even if it is something very small, the little things add up at the end.

OPEN TO CHANGE

Just because we typically do it one way, every project is a new opportunity to learn and evolve. Embrace advances and be open to trying new things. Especially if they better our clients bottom line.


REMEMBER THE NUMBERS

Always keep in mind that we have to pay for ourselves and measure our success the value we deliver for the client.


WATCH FOR OPPORTUNITIES

Why improve just the look of a client's site, when we can save them time and money by helping them solve real business challenges.

AMAZE OUR CLIENTS

Every time we interact with a client, they need to think "Wow, I really made the right choice."


REMAIN TRANSPARENT

The client deserves to know exactly what we do for them and how well it is working. Period.

DELIVER EXCELLENCE

Make sure we follow the best processes for everything we do to consistently deliver superior services to what a client would experience elsewhere.
​
Careers @ MosierData
We're Looking For Talent & Putting It To Work.
We want to change the world, and we're doing it one project at a time.

Let me ask you this:
Do you want to work for an awesome company?
Do you want to work with some awesome clients?
Do you want to be part of an awesome team?
Do you want to work on some awesome projects?
If you answered yes to any of these questions, we might be looking for you, too.
One of the things that makes us the best is our practice of hiring the best. We're always looking for the right people. We are a young, fast-paced company with a fun, casual work environment.
​As a company, we are always on the lookout for the right people that have the right talent and personality to fit into our corporate culture.
We aren't the company for everyone. Our schedules are pretty tight, our clients have high expectations (rightfully so, because that's how we keep them) and we keep a very close eye on performance. If you're looking for a job you can just come in and "do", you probably won't like us very much.
We're on the verge of some pretty big things, so there is no better definition of a "ground floor" opportunity. Hear it from the words of our founder and president himself:

If you're the kind of person that wants to get things right, but understands there will always be room for improvement, gets totally focused on what you have to do but understand the need for balance in life, and you want to be part of a team that works hard, plays even harder and does whatever it takes to help each other get shit done, we should probably sit down and talk..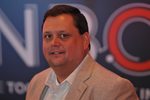 Jim Mosier
Company Founder
Who We're Currently Looking For

---
Like we said to the left, we're always looking for the right fit for these positions. If you think you can kill it, get in touch:
Client Services​
Digital Project Manager • Lakeland, Florida
Digital Account Manager • Lakeland, Florida
Digital Marketer • Lakeland, Florida
Digital Producer • Lakeland, Florida
Creative Services​
Graphic Designer • Lakeland, Florida
Copywriter • Lakeland, Florida
Technical Services​
Classic ASP Developer • Lakeland, Florida
PHP/WordPress Developer •Lakeland, Florida

HTML/CSS Front End Coder • Lakeland, Florida
Sales & Business Development

Outside Sales Associate • Lakeland, Florida
Telesales Associate •Lakeland, Florida

Is This You?
If you think you could take one of these positions and totally, completely OWN it, then..